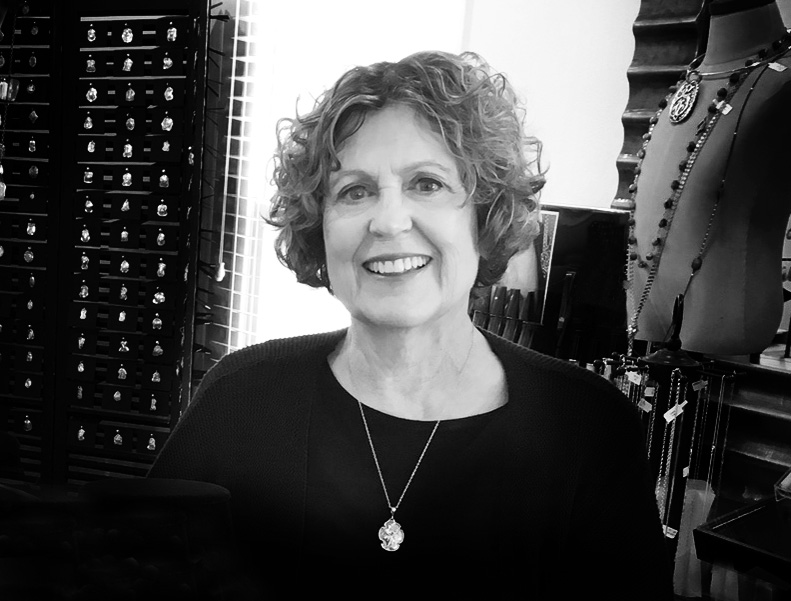 Lynda Henglein
For thirty years, I had the blessing and the challenge of being a military wife. During one of our assignments to Europe, I developed a passion for, and began to collect, beautiful hand embroidered antique monogrammed linens. I collected everything from hand-made handkerchiefs to linen towels and European pillow shams. To me, each antique monogram was a miniature work of art that rivaled anything I had ever seen in gold or silver.
Fast forward to 2013. I took a course to learn about a special material containing recycled silver called precious metal clay. I now had the tool to achieve my dream of transferring the antique monograms onto sterling silver. A few of my silver pendants are embellished with reclaimed 24K gold, that was originally embedded in parts of military aircraft flown over Iraq and Afghanistan. As a military wife, I feel I am honoring those who served their country.
I love the fact that my art not only features diverse monograms such as the one of Christian IV of Denmark, a monarch crowned in 1588, and Queen Marie Thérèse of Austria, the wife of Louis XIV of France, but also Empress Maria Feodorovna of Russia, the mother of Czar Nicholas II. My jewelry is the work of two artists: the heraldic artist of history, and myself, the artist of today. Each piece displays initials that could belong to anyone's distant relative from the old country. Alice is one of my most popular designs and yet, I have never sold one to an Alice.
While visiting the New York Public Library, The Library of Congress, The Victoria and Albert Art Library in London, and The National Library of Scotland, I not only photographed incredible original editions of antique monogram books from Russia, Europe, and America, I fell in love with them. From there, I started on a quest to acquire books, such as my 1874 edition of Henri Renoir's book of two letter ciphers and Charles Demengeot's book Dictionnaire Chiffre-Monogramme published in 1887, of which only 200 copies were printed. I have also acquired original editions of nineteenth century books of monograms and ciphers, published in England, France, Germany, and Austria. Research has taught me not only the historical significance of monograms, but also who the heraldic artist was, the country it originated in, and what year it was designed.
The hardest part of being an artist is knowing when your creation is complete. I have worked anywhere from 10-70 hours on a piece. That happens, I think, because when I work, time seems to stand still. The reward is that I have met the kindest, most thoughtful people at my trunk shows; some I now call friends. One of the things I am most proud of is being told that a selected piece would surely become a treasured family heirloom. Giving happiness is what propels me forward.